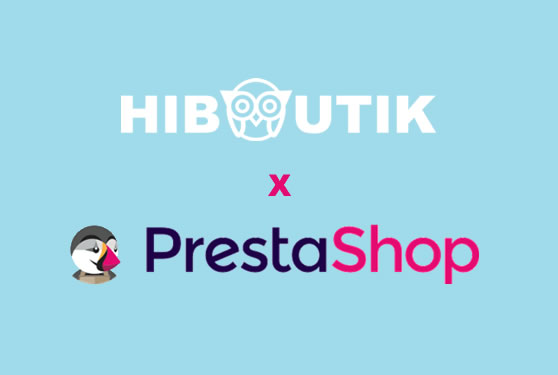 The synchronization enables :
– to update your Hiboutik inventory when an online sale occurs,
– to keep your online product quantities up-to-date with your in-store sales.
Install in your Prestashop the Hiboutik module (available on our Github repository): go to the Modules tab and import the file downloaded ("Install a module").
In "Modules>Manage my modules", you will find the Hiboutik module in the "Others" section.
1/ Set up the module
To setup the module, click on the "Configure" button on the Hiboutik module line:
– your Hiboutik credentials : your Account name and your API access codes (Email address and API key),
– the vendor ID under which the sales will be registered on Hiboutik (IDs of users are available in Settings/Users/Users),
-the store ID in which sales will be registered on Hiboutik. Your initial store ID is 1. You can ask our customer service to provide you with your different stores IDs for multi-stores accounts.
– the shipping product ID on Hiboutik (create this product as any single item). All shipping fees from Prestashop will be assigned to this product.
– the sale prefix will be added to the sale ID of Prestashop to differentiate your online sale from your in-store sales. Ex : ps_ This prefix is compulsory.
2/ Setting of your products
The matching of your products on both solutions is done on the barcode (Hiboutik) or Reference (Prestashop).
When you create a product on Hiboutik, a generic barcode is automatically assigned to the product or to its different variants. You will find them in the "Variants and Barcodes" section of each product form. You can change these barcodes with your own codes.
On Prestashop, you can fill a Reference in each product form, in the Basic settings. To match with Hiboutik, you must enter in this field your product barcode from Hiboutik.
For products with combinations, you must also match each combination Reference with the variant barcode from Hiboutik (go to the Combinations section and select each combination).
To import your product database from Hiboutik to Prestashop with ease,consult this guide.
If you need to sync all your inventory between Hiboutik and Prestashop, you can click on the "SYNC NOW" button on the Hiboutik module setting page.
You must do it at least one time to initiate your online stock; and when you proceed to a stock order, a transfer or an inventory count on Hiboutik.
3/ Synchronization
a/ From Prestashop to Hiboutik
The synchronization occurs when you switch your Prestashop order status to "Payment accepted".
The synchronization will automatically:
– create a new sale on Hiboutik,
– create the Prestashop customer (if he doesn't already exist) and link him to the sale,
– add all the products sold online including shipping fees,
– and withdraw from your inventory all quantities sold in the limit of what is available on your Hiboutik account.
Then you will need to validate the sale. You can add on your Hiboutik account a specific payment type for all online sales (ex: WEB).
You can sync each Prestashop order only one time. So if you change your Prestashop order after the synchronization, you will have to update manually your Hiboutik sale.
The customer is automatically sync between both solutions, but not the addresses. It should be available in a future development of the module.
b/ From Hiboutik to Prestashop
To keep your online inventory up-to-date, a synchronization between Prestashop and Hiboutik should be done each time a new sale is processed on your Hiboutik account. To do that, we will use webhooks.
In Settings/General settings of your Hiboutik account, enter in the "Sales webhook" field the URL displayed on the Hiboutik module setting page on Prestashop.
When a sale is closed on Hiboutik, the Hiboutik module on Prestashop is called to update your online stock.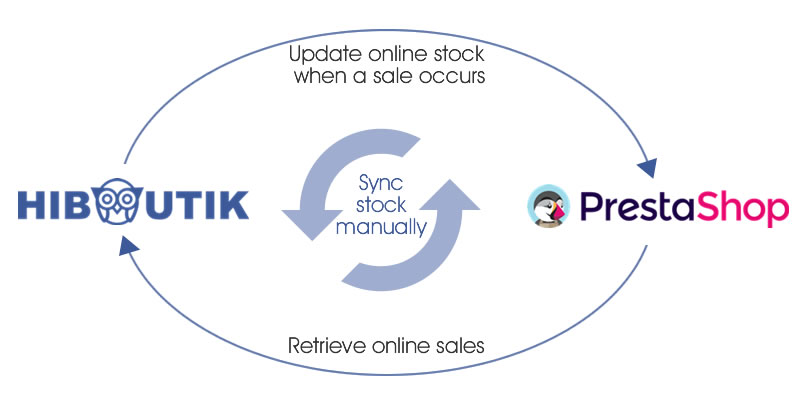 4/ Synchronisation errors
If a Prestashop product doesn't match with an Hiboutik product, an unknown product will be added to the sale.
If quantities of the product sold on Prestashop is not available on Hiboutik, quantities of the product line will not be withdrawn from the inventory.
For the first orders synced, we recommend you to check that tax rates on products are correctly registered (especially if you deal with different tax rules).
If your web server doesn't respond to the webhook, an error message will be displayed on your Hiboutik account informing you that connection is cut off. You can restart your session (logout and login from your account) to relaunch the webhook attempts. When this occurs, you should relaunch a complete synchronization of your online inventory from the Hiboutik module setting page.